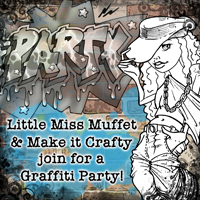 So I guess you have seen the Urban Elements previously released from Make it Crafty.... well there are some awesome new characters to go with them and some amazing grafitti text too to set your scene...
A dedicated blog has been set up to with more info and how you get a freebie to start you off with the challenges the girls have set up for you....
Here
Here is my project I did using the Urban elements pack, Urban Nico , Urban Courney and the Urban scene text 'party'...
The whole image was coloured entirley with promarkers....
How cool is Urban Nico.... and he's just perfect for those boy/teenage cards...
and the awesome Urban Courtney..
I just love using these images and making up the scenes.... and I love colouring bricks... they seem to take forever but I loved doing them......both Zoe and Barbara's girls have made some anazing creations ,please make sure you check them out and leave them some love....

Thank you so much for for popping in,
I have loads of stuff to do hopefully I will be able to share with you soon
Hugs
xx